Pictures from Amiga2001 in Cologne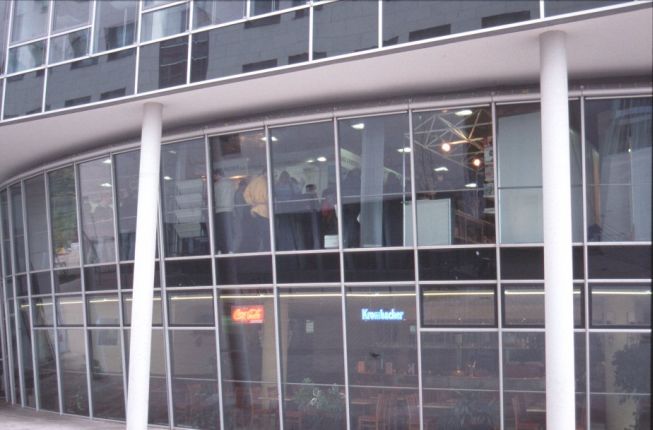 1: A view from outside up into the crowded oval show hall.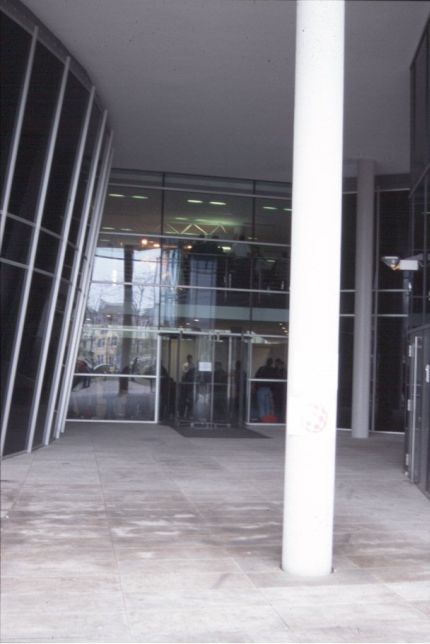 2: This entrance was closed in order to create a seminar room just inside it.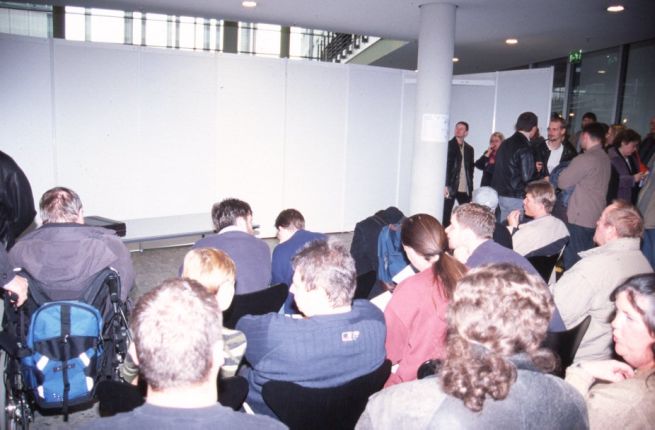 3: Lots of people already in place, waiting to hear about Amithlon/AmigaOS XL and OS 4.0...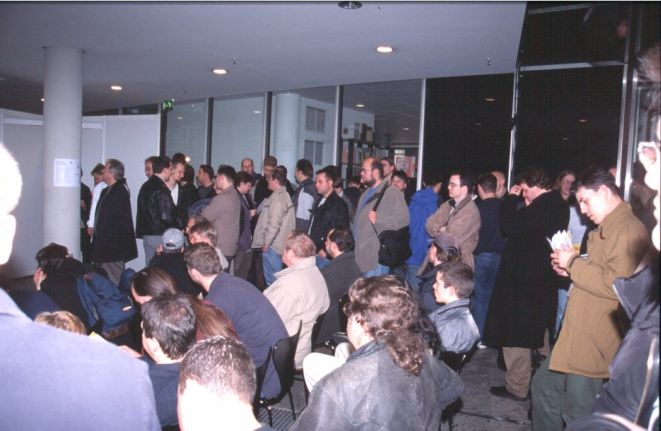 4: - hardly even standing room left. At least until it turned out that the start of the seminars had been postponed.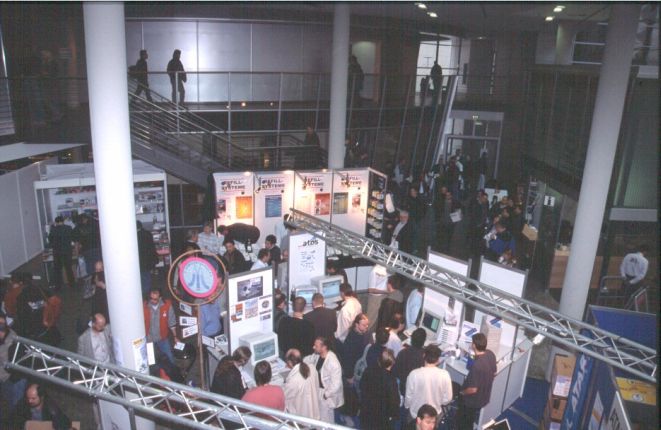 5: Looking from the first floor down into the Atari section. The seminar "room" was behind the light walls in the extreme left of the picture.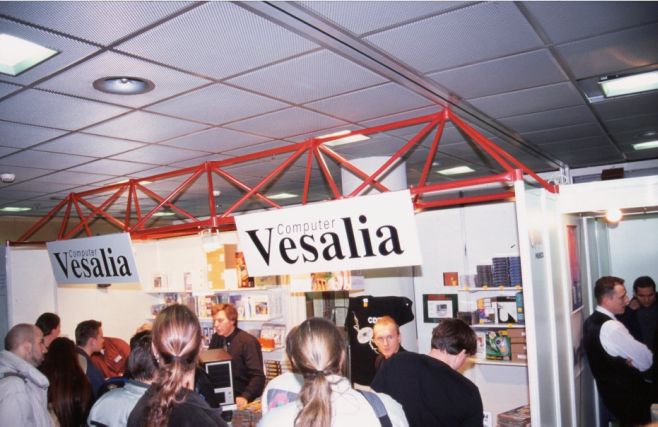 6: Upstairs, in the smaller show room, Vesalia's booth. A fancy aluminum cased Pegasos prototype is on the counter.



7: A closer look at the Pegasos prototype.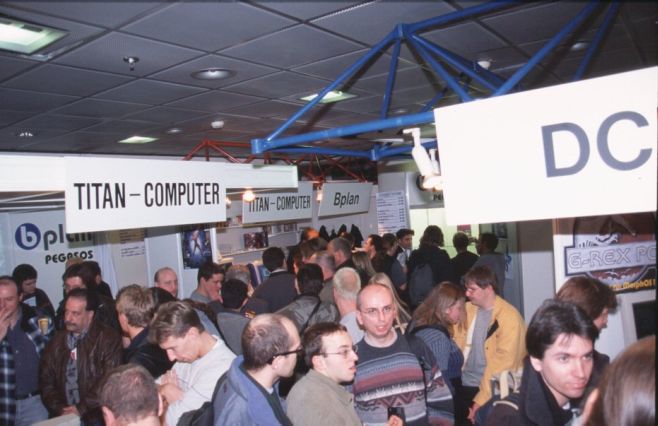 8: There's bound to be more Pegasos boxen somewhere behind that crowd.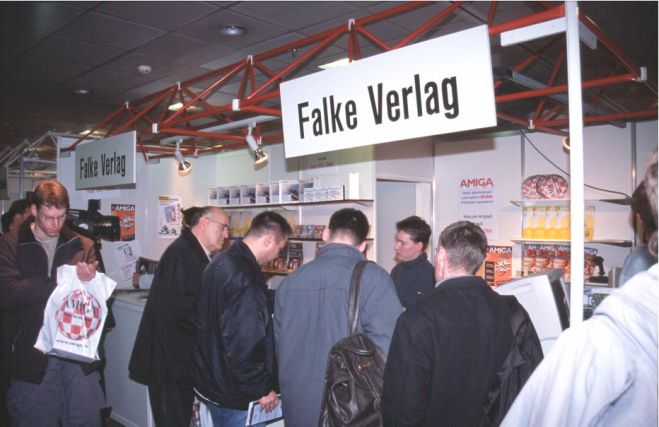 9: In the meantime, a look at the other hall. Falke Media, the organizers of the show, and a big German magazine publisher. Yes, there are still real, printed Amiga magazines in Germany.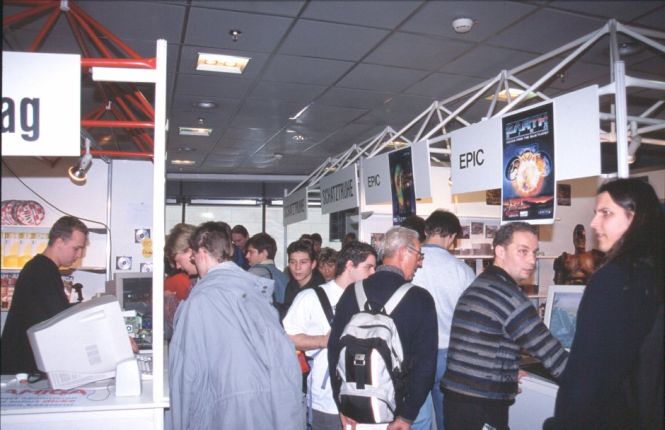 10: Epic's biggest attraction seemed to be a Mac game (huh?).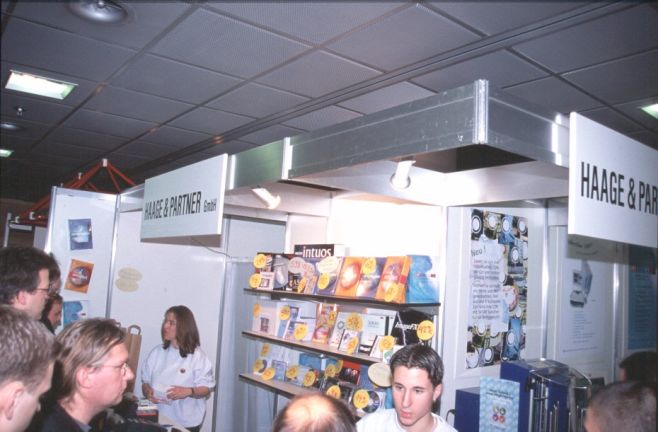 11: At H&P, Gudrun Haage was as usual on her feet seemingly constantly. This year assisted by Michael Kinch. A new employee?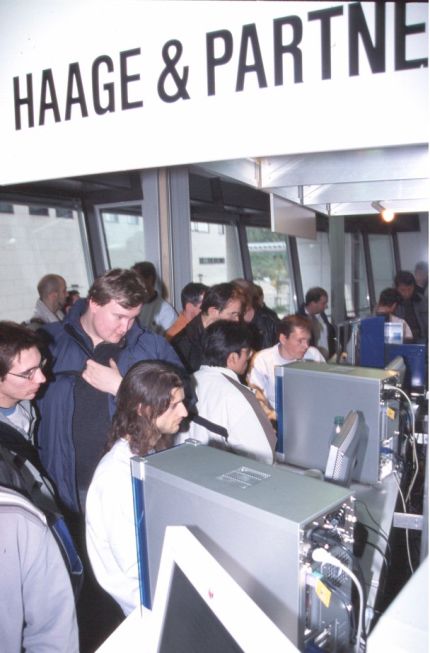 12: Martin Steigerwald and Markus Pöllmann demonstrating Amithlon and AmigaXL, respectively, on two of the fancy new tower systems.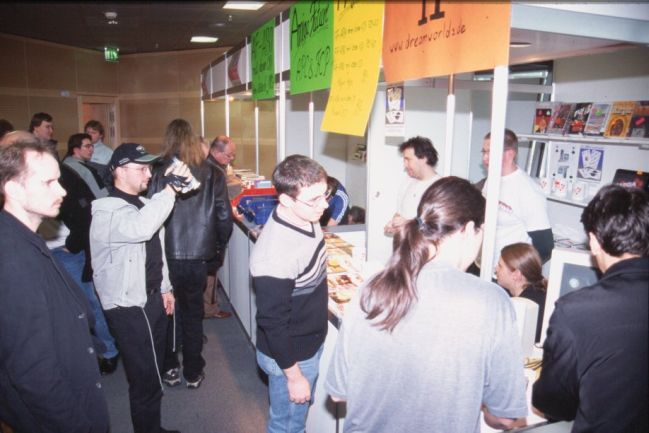 13: At one end of the hall, APC&TCP had their booth.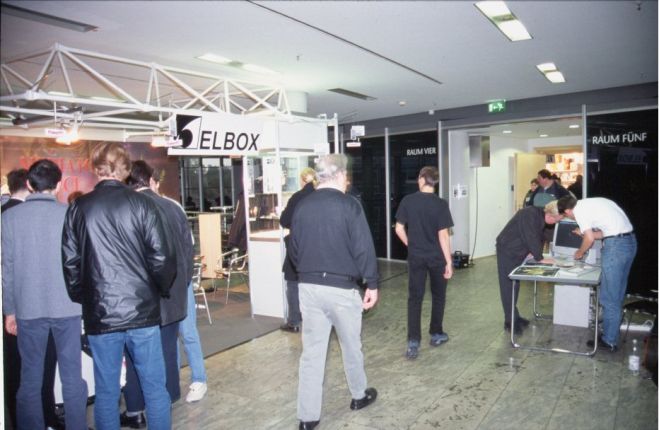 14: Elbox were strategically placed on the platform between the small, Pegasos-/MorphOS-oriented hall and the bigger, more AmigaOS-/H&P-centered one.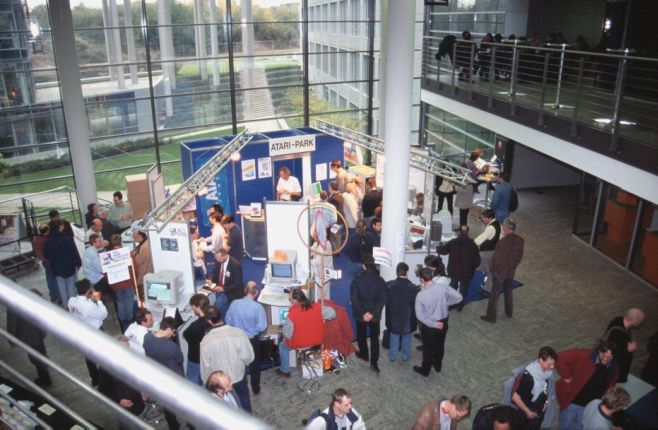 15: Another look down in the Atari section.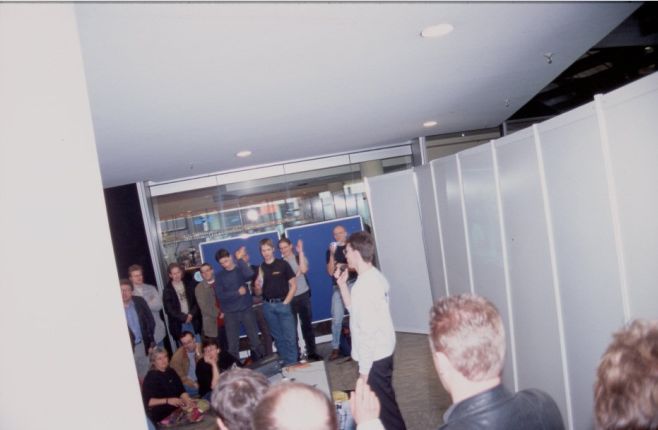 16: Finally the seminars started. Jürgen Haage presents the AmigaOS XL package and the new PC towers to run them on.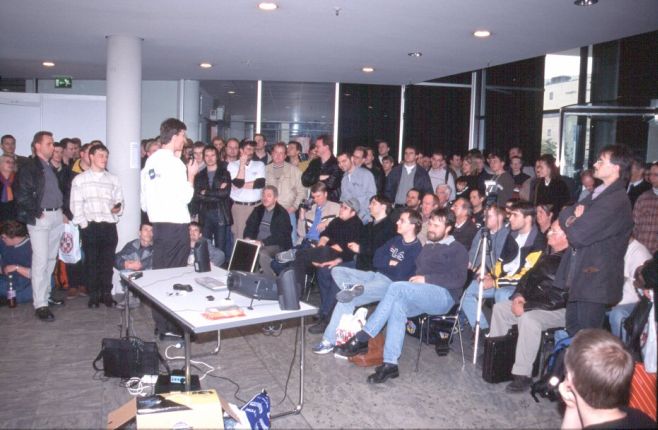 17: Again a big crowd, and they are all ears.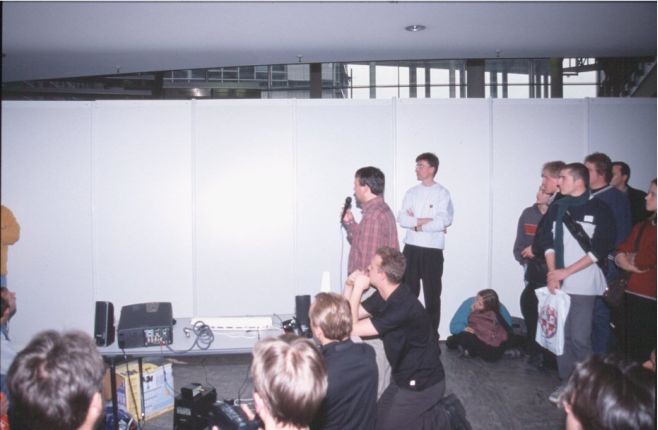 18: Then Ben Hermans of Hyperion took over and told about their OS 4.0 plans.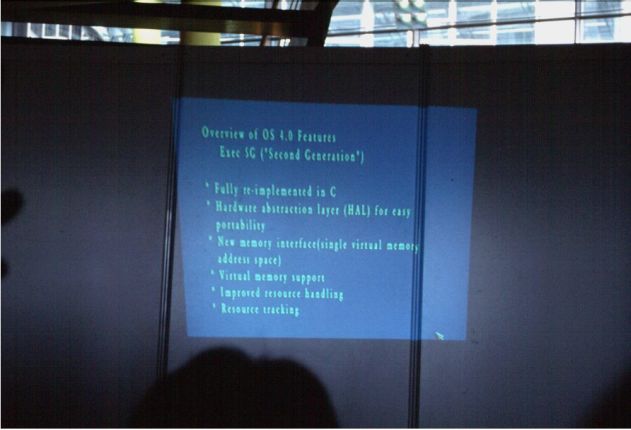 19: This presentation actually ran on an Amiga, as far as I could determine. VM and resource tracking in 4.0? Sounds fine to me (but let's see it before we rejoice).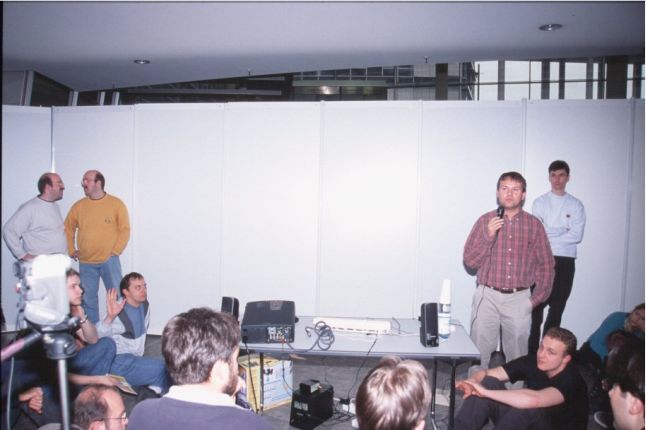 20: The Frieden twins in the far left corner, Ben Hermans with the mike, and Jürgen Haage listening closely in the background.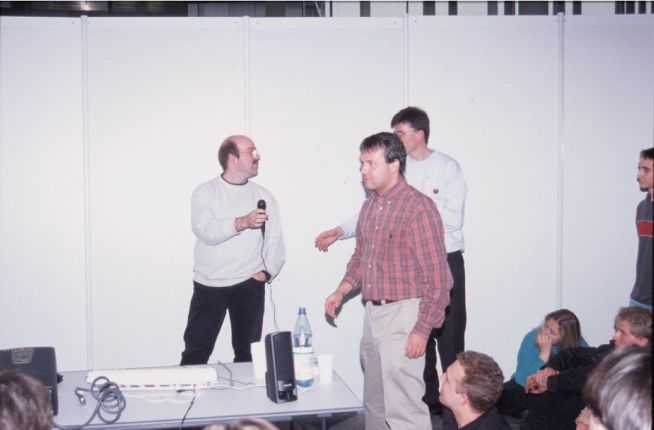 21: Some of the questions were in German, so Ben was assisted by the natives.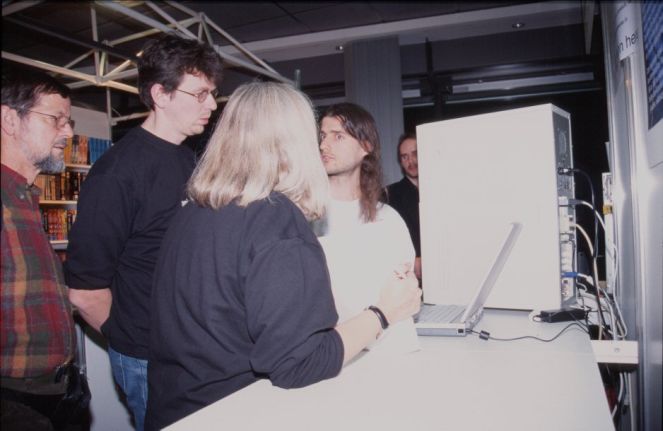 22: Martin Steigerwald getting the full amiga-news.de treatment.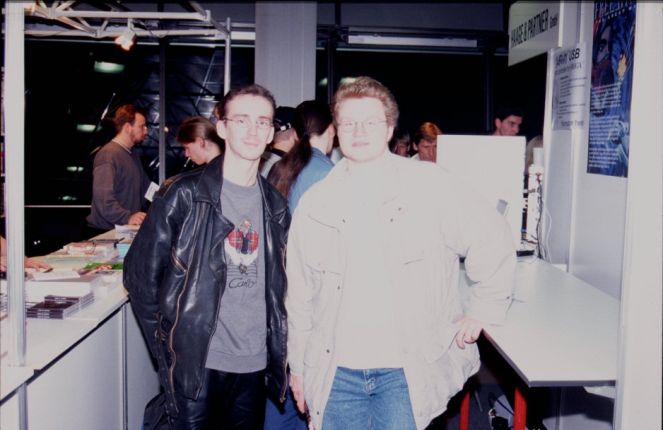 23: Not much of a betatester's meeting this year. Wolfgang Hosemann (left), myself, and Martin Steigerwald were the only ones there; Oliver Tacke (right) isn't a betatester (but did make the nice GlowIcons).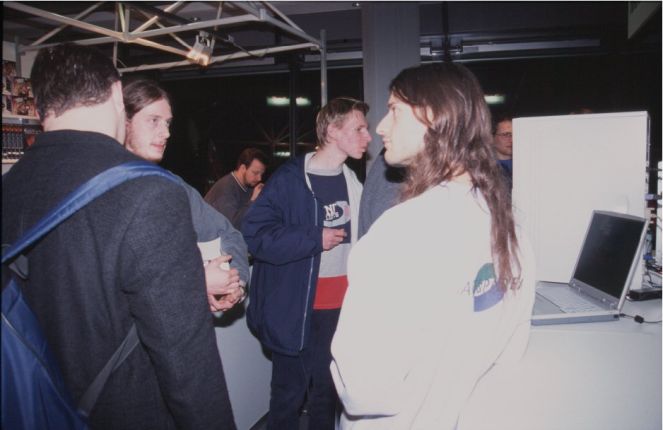 24: And Martin was busy showing people that Amithlon could also run on a laptop.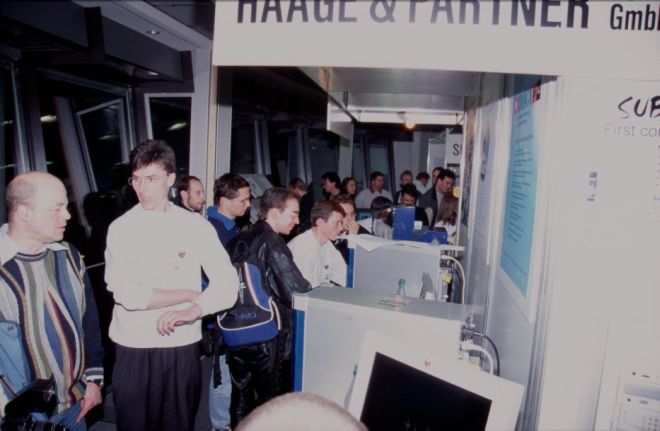 25: Still a big crowd there. Jürgen Haage chats up a customer, while Wolfgang Hosemann has gone over to bother Markus Pöllmann.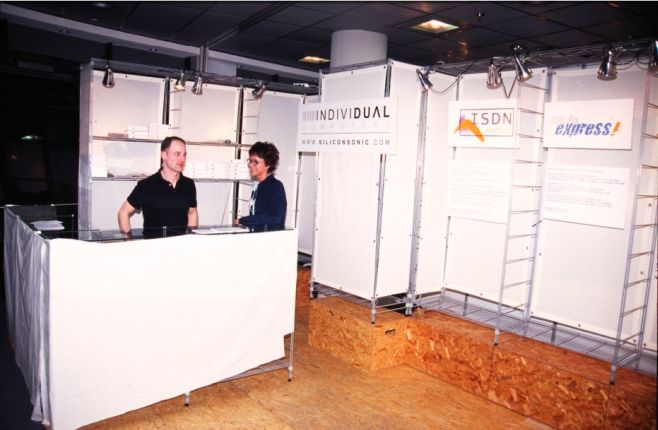 26: Jens Schönfeld, Individual Computers, fully recovered from his car accident, but behind schedule on the Delfina board.



27: Towards closing time Saturday you could actually get close to most booths; here Cool-Bits and APC&TCP.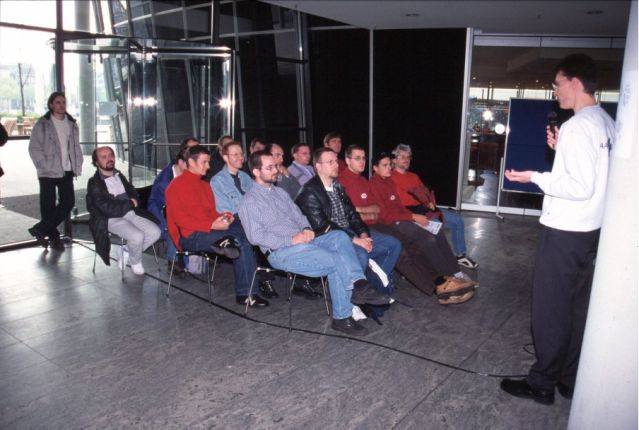 28: Sunday morning, a much smaller crowd listening to Jürgen Haage's AmigaOS XL presentation.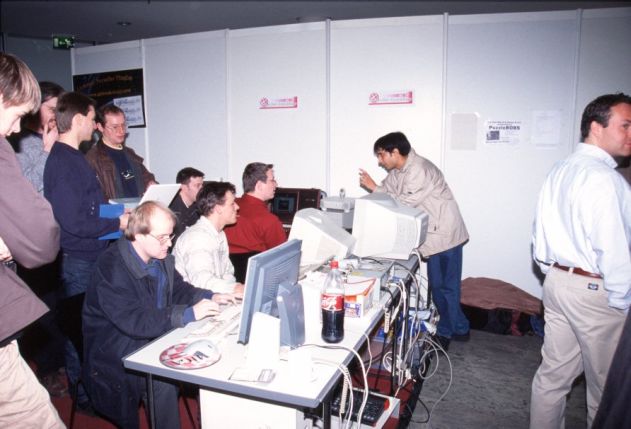 29: Amiga-news.de as usual shared space with the club people, among them Volker Mohr (background center), this year with a nice hardwood cabinet A1200 (without numeric keypad).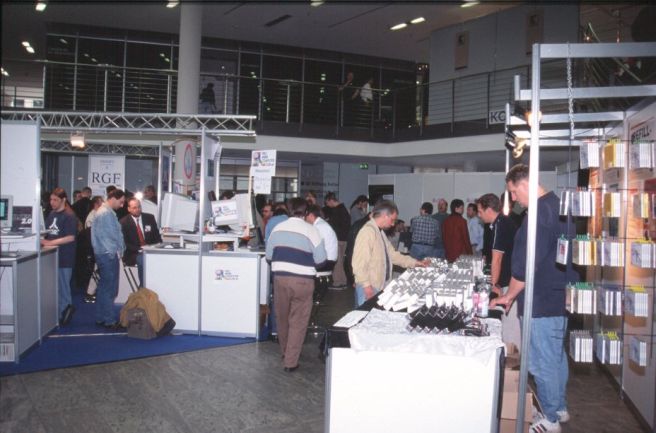 30: You could also get refills and other printer-related products for almost any printer (right).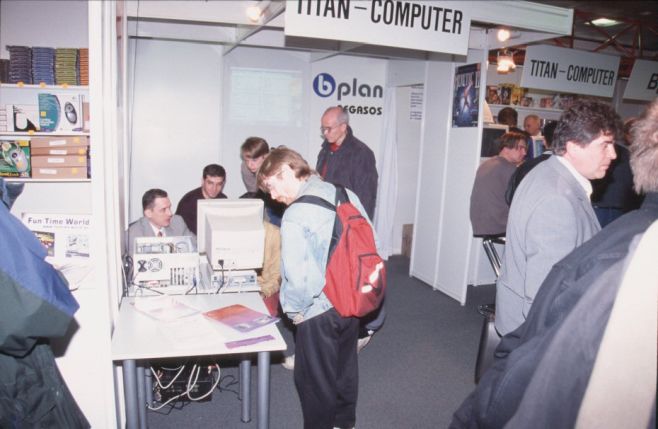 31: Upstairs again. Today, you could actually get close to bPlan's Pegasos prototype.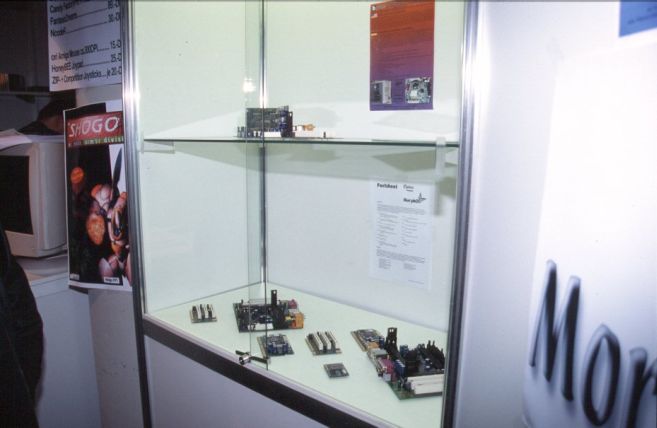 32: Some of the parts that go into a Pegasos.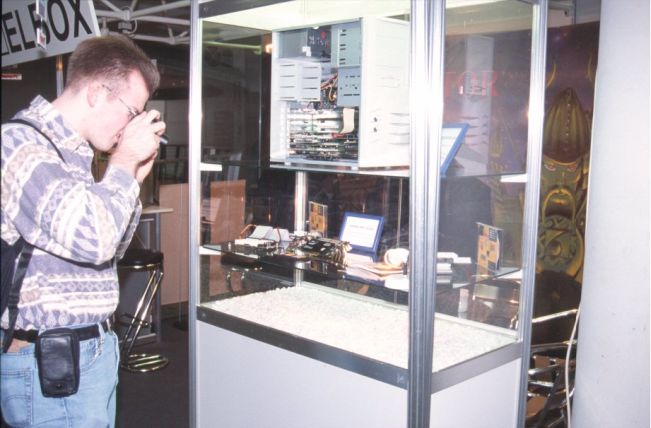 33: ElBox's SharkPPC prototype (mockup?) was one of the most photographed objects.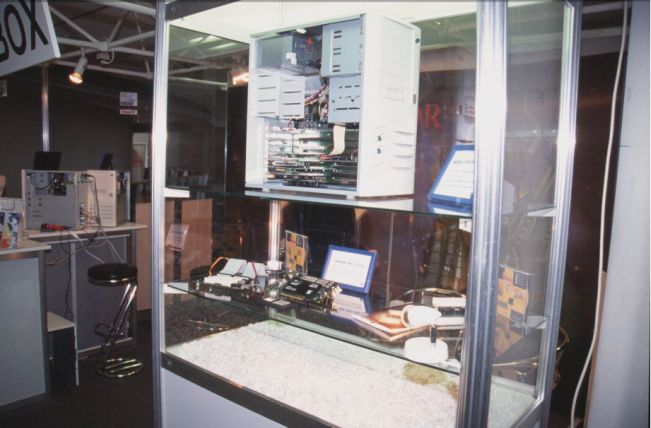 34: And it did look impressive.



35: Amiga-news.de, and Rolf Tingler (top right) wielding his airbrush on unsuspecting cell phones.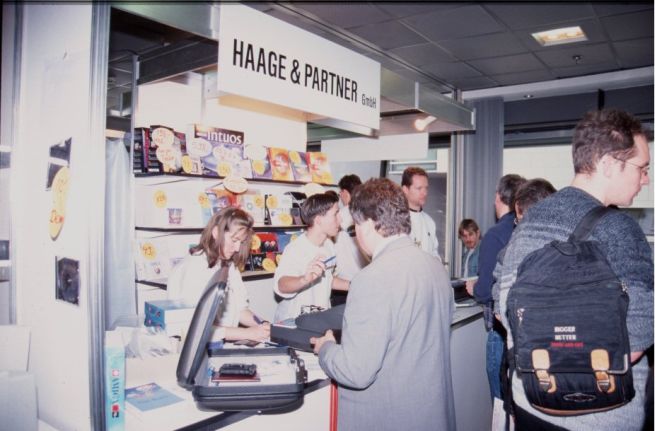 36: Still lots of business at H&P's stand. Gudrun Haage, Michael Kinch, Jürgen Haage (background, back turned), and Markus Nerding.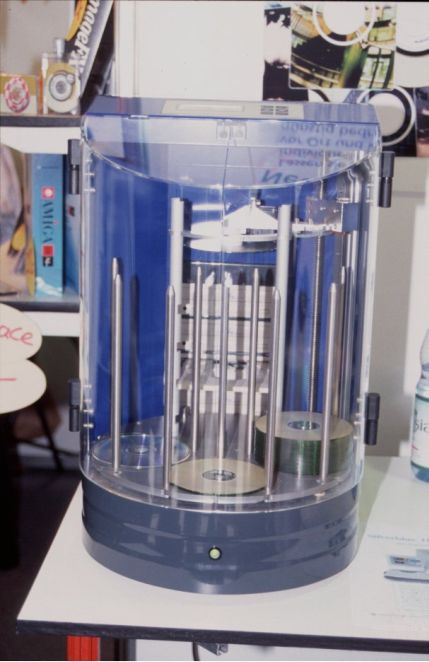 37: Robot time: This contraption contains four CD writers, being attended by a robotic arm, which lifts each CD medium from the supply stack...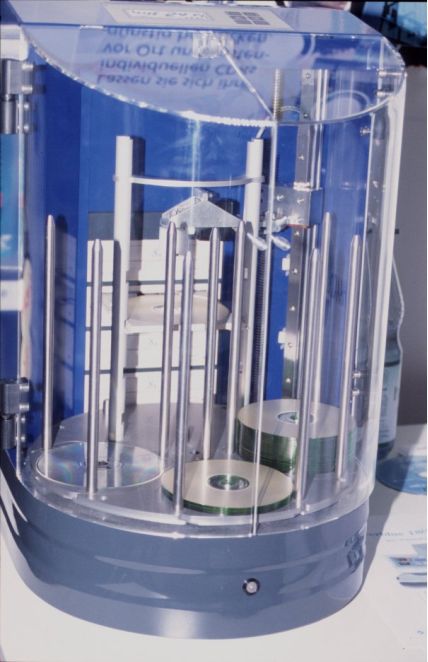 38: - and drops it into the drawer which has meanwhile been opened. And so on. When the writing is finished, the CD is lifted out and dropped on another stack.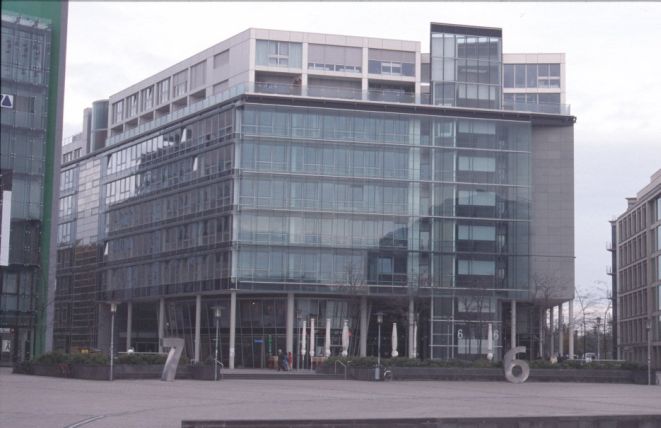 39: Media Park 6 from the outside. Everything took place in those two lower floors. No wonder it was crowded.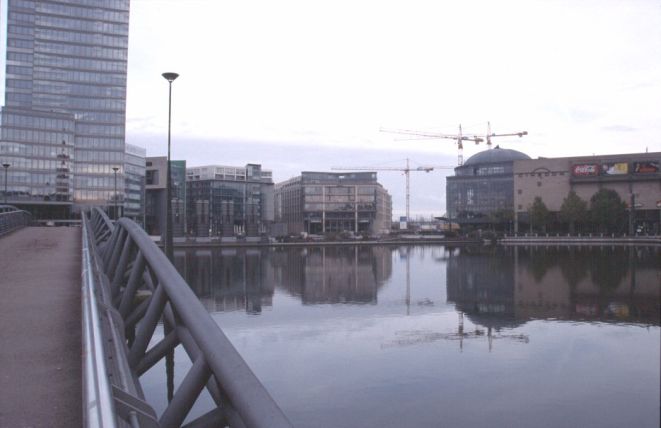 40: Between number 5 B and the Cinedom they are still busy building the last block, 5 A.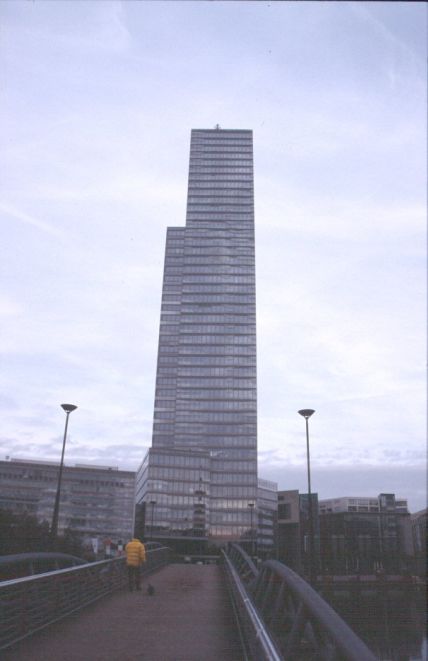 41: The skyscraper (Köln Turm - the Cologne Tower) was finished this year. The lower building to the left is the Jolly Hotel.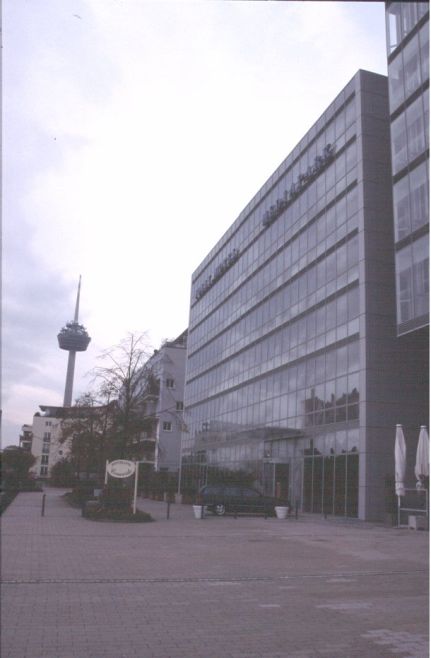 42: The Jolly is a really nice hotel, although a bit pricey. But the location can't be beat - 100 metres from the show.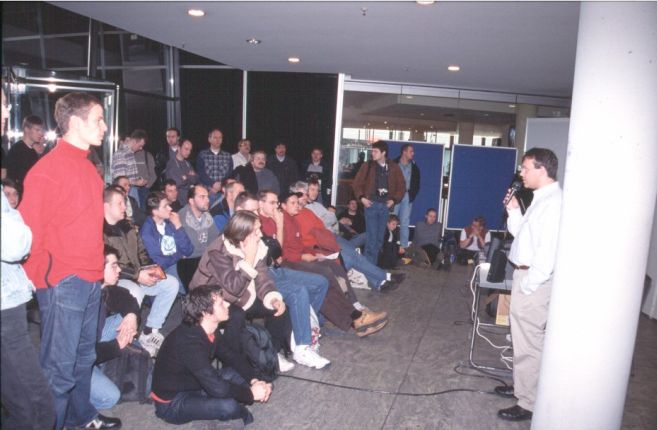 43: Also Sunday there was big interest in Ben Herman's OS 4.0 talk.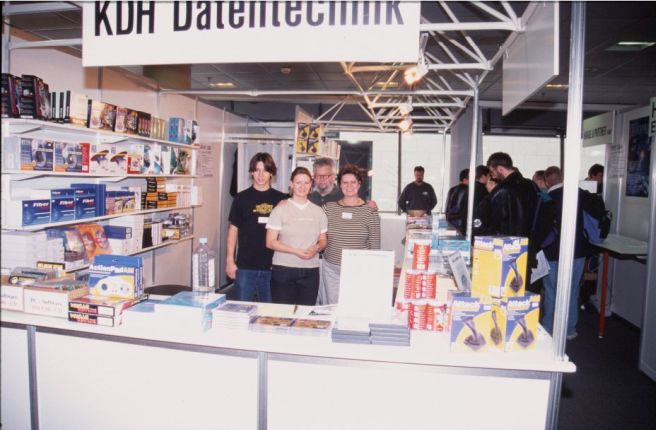 44: A (relatively) quiet moment for the whole Horbach family: Martin and Andrea with Father Günther and Mother Kaja. Nice to meet them again.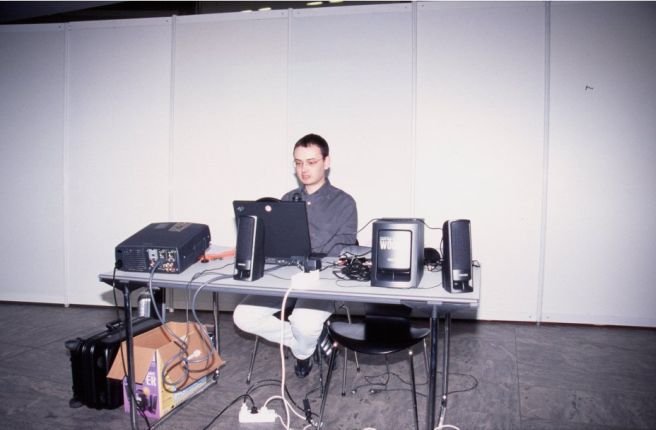 45: Michael Battilana from Cloanto demonstrating the 30 times speedup of Amiga Forever 5 over version 4.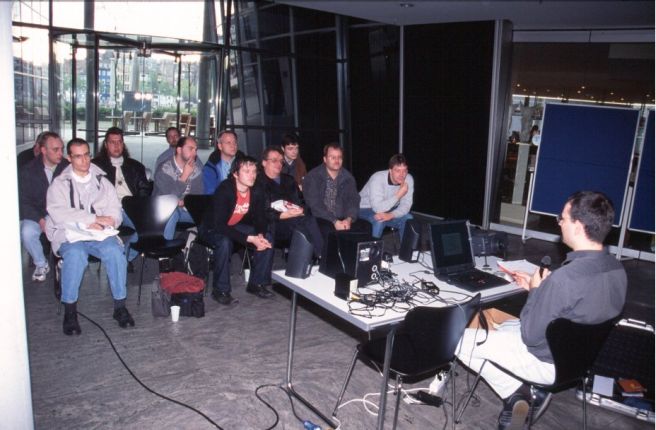 46: Not a massive crowd, but suitably impressed.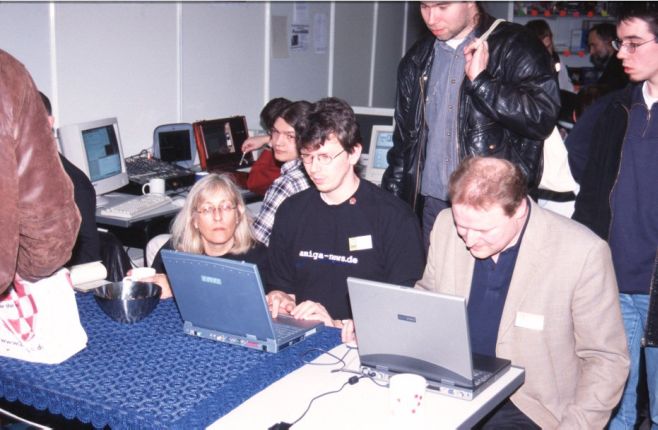 47: Tired members of the press getting the last "live" reports done. Petra Struck and Christoph Dietz from Amiga-News.de with Amiga-Club's Hendrik Höner.